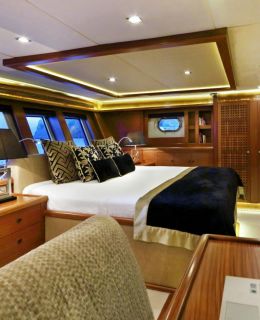 Yacht Building
Nowadays, in Turkey, where the production of yachts are made in world standards, we are building reliable and comfortable motor yachts that are extremely durable and resistant to corrosion with high-quality steel sheet bodies made of epoxy laminate wood or HST known as the west system in southwestern Turkish Boatyards using aluminum compound materials.
All motor yachts Built later than year 2000 The yacht building are produced in the highest standards with documents of reliability and security, called Lloyd, Ce, Rina, or Mca, especially in İstanbul, Bodrum, Antalya, and Fethiye Shipyards.
The construction of the modern yacht Building in Turkey dating back to the 1970s. Wooden yacht Building in Turkey is being manufactured using the latest technology, whether gulet or motoryacht. In the face of a very high demand coming in recent years, the Turkish yacht Building industry is considered to be in the golden era. 
Yacht Building for commercial reasons has been enjoying a very special period where new orders have been manufactured using western system epoxy laminated wood or steel aluminum or composite motoryacht are very reliable. The yacht building industry in Turkey has improved its capacity in all sizes to meet the yacht construction demands in recent years.
First Quality in Yacht Building
We recommend you to know a few important details about the essentials that you should pay attention to in the production of motoryachts. If you are considering a motoryacht and you do not have any infrastructure for the production of motoryachts, you should first obtain preliminary information by doing detailed research and consulting with those who are going to build this project by getting information from the Boatyard who are building such projects. it is necessary to choose the shipyard that should provide solid references about the previous yachts that are built on their shipyard.
In short, it is important to make sure that the shipyard for yacht building is reliable and of a high standard of quality. If the references are sufficient, they should find a supervisor and introduce it to the yacht owner who decides to build the yacht and report to the shipyard manager with a meeting that they have to give full authority, to the boatyard captain who will decide what to do with the manufacturing process, and the yacht building should start and end in a specific period within a tight schedule.